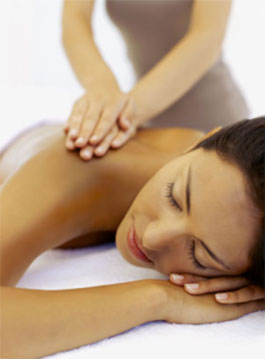 SRWC Beach Balance's licensed massage therapists offer a variety of massage modalities that help release stress, relieve muscle pain, and improve well-being. Massages are offered at the SRWC Beach Balance location. To schedule a massage, contact SRWC Beach Balance at (562) 985-0763. Appointments must be made 24 hours in advance.
Pricing
| Massage Length | Student | SRWC Member | Non-Student |
| --- | --- | --- | --- |
| 30 minutes | $25 | $30 | $35 |
| 60 minutes | $47 | $55 | $65 |
| 90 minutes | $70 | $80 | $90 |
*Eligible non-members are individuals associated with the campus community that do not have an active SRWC membership. Must purchase a $10 day pass in addition to the massage fee. To find out more about SRWC memberships, please visit: https://asirecreation.org/membership 
Massage Therapists & Hours of Availability
Charleson Agustin

Charleson Agustin is the SRWC's in-house massage therapist and recent Doctor of Physical Therapy graduate from California State University, Long Beach. Through his Certified Massage Therapist (CMT) and Certified Strength and Conditioning Specialist (CSCS) Certification, Charleson aims to help others achieve their goals through exercise and manual therapy. In his free time, Charleson combines his passion for art and medicine into one-of-a-kind stickers! Find them on Etsy and Instagram at @AgustinMotion! 

Available Mondays 10 a.m. to 2 p.m.
Leslie Weiland

Leslie is a Long Beach State alumnus, earning her bachelors of science in athletic training in 2017. Leslie is a licensed and certified athletic trainer through the Board of Certification for the Athletic Trainer (BOC), as well as a certified massage therapist through the National Certification Board of Therapeutic Massage & Bodywork (NCBTMB). She has been practicing as an athletic trainer, first responder, and manual therapist in physical therapy clinics and for youth and pre-professional sports teams for over three years. 

Leslie embraces a holistic healing approach, incorporating her orthopedic background to help others. Her passion is to educate others on their musculoskeletal injuries and provide long-term physical and spiritual relief. She specializes in deep tissue massage, trigger point therapy, stretching, sports massage, cupping, and active release therapy. When Leslie's not at the gym, you can find her spending time with family and friends, cooking, or running on the beach with her husky puppy!

Available Mondays – Wednesdays 4:30 p.m. to 8 p.m.
Shirene McKinney

Shirene's initial massage training was in clinical massage, a solutions-based framework to address injuries, muscular tension, daily aches and pains. Over the span of her 20-year career Shirene has continued her education to integrate movement, postural analysis, energy work, therapeutic techniques and multiple modalities to provide complete care. 

In addition to Swedish, deep tissue, trigger point and neuromuscular therapy, Shirene specializes in craniosacral therapy, oncology (lymphatic pathway) massage and cupping.

Available Tuesdays and Thursdays, 10 a.m. to 4 p.m.
Massage Modalities
General Massages

Deep Tissue Massage: Utilizes deep pressure strokes to release tension in the deep layers of your muscles and fascia. Great for treating chronic pain or injury. One of our most requested massages.
Hot Stone Massage: Utilizes smooth, water-heated stones to ease muscle stiffness and melt away tension at key points on the body. Great for stress relief.
Swedish Massage: Utilizes smooth, long, gliding strokes to relax the body and the mind. A great introductory massage for those new to massage therapy. Great for stress relief.
Specialty Massages

Aromatherapy Massage: Incorporates the use of essential oils into lotions and diffusers to promote relaxation and boost one's mood. Great for stress relief. One of our most requested massages.
Body Work Therapeutic Massage (NEW): Utilizes passive modalities and active interventions to address muscle tightness and minor musculoskeletal injuries. Great for treating chronic pain or injury.
Cranial Sacral Release Therapy: Utilizes a soft touch to release restrictions and decrease compression in the soft tissues around the head, spinal column, and sacrum. Great for treating chronic pain or injury.
Cupping Therapy: Increases blood circulation and decreases muscle tension using plastic therapy cups.
Lymphatic Massage: A gentle massage that encourages the movement of lymph fluid to remove waste and toxins from the body. Great for stress relief and treating chronic pain or injury.
Pre-Natal Therapy: A nurturing, relaxing massage that helps alleviate pregnancy-related aches and pains. Great for stress relief.
Reflexology Therapy: Utilizes gentle pressure on specific points of the hands and feet to improve circulation, detoxify the body, and reduce tension.
Sport Massage: Utilizes firm pressure strokes and stretching techniques to flush-out lactic acid that has built up in the muscles from recent activity. Great for treating chronic pain or injury. One of our most requested massages.
Stretching Massage: Utilizes assisted stretching techniques to enhance flexibility and increase range of motion. Great for stress relief.
Trigger Point Therapy: Involves static compression on rigid muscle tissue, commonly known as knots, to reset muscle firing patterns and decrease muscle aches. Great for treating chronic pain or injury.
Massage Etiquette
Payment & Scheduling - Appointments can be scheduled in-person or via phone. Please no email requests. Appointments must be made at least 24hrs in advance and paid for by the end of the next business day (Monday – Thursday 8pm, Friday 6pm) to finalize scheduling. Payments can be made in-person at the SRWC Fitness or Beach Balance desk, via the SRWC Go app, or online at https://shop.asi.csulb.edu/.
Arrival - First-time clients are asked to arrive at least 15 minutes prior to their scheduled massage to fill out paperwork. If you are late, keep in mind that the length of your massage may be shortened so as not to inconvenience other clients. Late arrivals will not receive an extension to their scheduled appointment time.
Showering - We understand that we are in a fitness facility, and you may be working out prior to your massage. However, please be considerate to your massage therapist and shower after your workout / before your massage.
Cancellations - If you need to cancel, please contact Beach Balance at least 24 hours before your scheduled appointment. There is a $25 charge for any no shows or cancellations done less than 24 hours in advance. This amount will be deducted from your initial massage payment, and you will be refunded the remaining balance of your transaction, excluding service fees. Refunds will be processed within 3-5 business days of the originally scheduled massage.
Inappropriate Language and Actions - Beach Balance massage therapists are certified by the State of California. All massages are therapeutically oriented and non-sexual. Any remarks or gestures made by a client and interpreted by the therapist as harassment or sexual in nature will result in the immediate termination of the session without refund.
Injuries or Other Medical Conditions - Massage therapy is not a substitute for medical examination, diagnosis, or treatment injuries or other medical conditions and may be contraindicated for some individuals. Massage therapists are not qualified to perform spinal or skeletal adjustments or diagnose, prescribe, or treat any physical or mental illness. Massage therapists have the right to terminate a session and request a physician's clearance from your primary care physician for any contraindications written in your intake form and/or communicated by you or observed by the massage therapist during sessions.
Tipping - Though tipping is appreciated among massage therapists, it is not expected among any customer. If you would like to leave a tip, please deliver it directly to the therapist. Beach Balance staff are not permitted to handle any cash.
To schedule a

massage

, contact SRWC Beach Balance at (562) 985-0763. Appointments must be made 24 hours in advance.